Uni-Cap (dust-free transitions)
Uni-Cap is a fully cast hygienic dust-free transition. The material is a silicone that meets the requirements of the FDA.
The standard material is clear silicone, but special colors can be supplied subject to quantity and color request. A corresponding range of stainless steel support rings is also available, made from 316L stainless steel; various surface treatments can be provided.
Isolating Dust is an important problem in the process industry. Uni-Cap has been designed to help manufacturers meet the strict requirements required.
The Uni-Cap helps to isolate the dust and create a safer working environment, ensuring operators are fully protected during the transfer of powder processing.
By integrating the Uni-Cap with stainless steel support rings, the Uni-Cap system offers a very simple and cost-effective way to create a "closed system".
Features:
Dustproof connection
FDA compliant silicone
Excellent GMP design
Durable and easy to clean
No tools needed
Hygienic rings in stainless steel
Fast and reliable installation
Technical specification
Dust cap Material of construction: FDA compliant silicone (FDA CFR 177.2600)
Support ring Construction material: 316L stainless steel.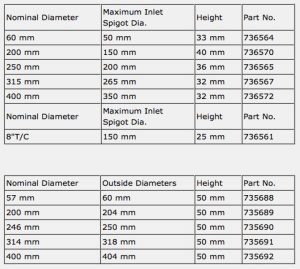 Typical areas of use
Closing an inlet when not in use.
Dust-free transfer from IBC to IBC
When grinding into an IBC
Vacuum transport to an IBC
Used on the underside of IBC discharge valves during transport to isolate powder