Uni-Mill conical screen mill
The Uni-Mill cone mill is based on Hanningfield's experience in particle reduction for the process industry.
Grinding with a Cone Mill is the ideal way to achieve a fine, uniform particle size. By combining high capacity, high efficiency and low energy consumption, the Uni-Mill is ideal for pharmaceutical, food, chemical industries.
Uni-Millär designed and manufactured by Hanningfield Process Systems in England.
The Uni-Mill cone mill balances performance with simplicity, to provide a solution that guarantees a high capacity, it should be easy to use, clean and maintain. This durable construction makes the Uni-Mill extremely reliable, perfect even for the most demanding treatment requirements.
Uni-Mill is suitable for dry, wet or fine grinding in the pharmaceutical, food and chemical industries. The grinder can be easily adapted for processing different products, by changing the inserts (tools) and thus achieving a cost-effective solution to your grinding problem.
Uni-Mill is available in different sizes to ensure that all equipment is adapted to the customer's specific requirements.
Features:
Hygienic stainless steel
No metal-to-metal contact
Gentle size reduction to particle size as low as 180μm (80 mesh)
High energy efficiency
Hygienic design
Compact, space-saving design
Mobile and height-adjustable versions
ATEX Versions available
Advantages:
High capacity
Low proportion of "fines"
Low heat development
Low noise level
Process flexibility with rapid tool changes
Repeatable results, even particle size distribution
Technical specifications: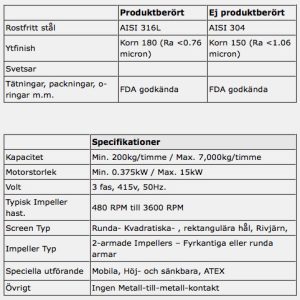 Typical applications:
The pharmaceutical industry
Dry grinding for tablet production
Wet milling for tablet manufacturing
Agglomeration (hygiene screening) of raw materials
Recycling/destruction of tablets or powder from capsules
The food industry
Agglomeration of Raisin
Recycling of cookies/biscuits (even with high fat content)
Milk powder Porridge powder Spices
Cosmetic/Chemical industry
Particle reduction of Salt
Agglomeration of pigment
Detergent (powder)
Detergent (powder)
Easy cleaning
Mobil
Can be supplemented with a vacuum system (Uni-Vac) which supplies the machine with product and thus dust-free powder handling.