Uni-Vac, vacuum transport
Our Uni-Vac range of vacuum conveyors has been carefully designed and improved through our 20 years of conveyancing experience. With transfer rates of up to 4,000 kg/h, the Uni-Vac has been designed specifically with the needs of the end user in mind.
Uni-Vac's range of our 20 years of experience in vacuum transport. With capacities of up to 4,000 kg / h. The Uni-Vac can be specially designed according to the needs of the end user.
Uni-Vac's advantages lie in an easy-to-clean design, which means the system can be easily disassembled for cleaning without the need for tools. In line with this, the Uni-Vac has a "joint-free" design, which makes thorough cleaning easier.
This not only improves hygiene, but also reduces operational downtime through the rapid cleaning. All components are manufactured from either 304 or 316 stainless steel to suit your process.
Hanningfield's "Know how" in the application and manufacture of lifting systems also enables us to provide bespoke designs. We can offer fixed or mobile stands for increased flexibility.
Importantly, we also have the option of placing the conveyor's control panel at a distance from the Uni-Vac. Not only does this comply with GMP regulations, but also offers a hygienic advantage, as the device becomes easier to maintain and clean.
Our "know how" with vacuum transport and grinding also helps us understand and solve problems and improve processes.
With a wealth of knowledge, Hanningfield is proud to be an expert in the design, manufacture and maintenance of vacuum transfer solutions. We have manufactured vacuum transport systems for many companies around the world. Our experience and understanding of vacuum transport makes us confident that we can contribute to solving your problem as well.
Features:
Easy to make clean design
Hygienic
Stainless steel (304 or 316)
No tools are needed for disassembly
Control panel can be placed at a distance from the machine
Flexible modular construction
Mobil eller statiskt stativ
Advantages:
High return on investment through increased productivity and lower product losses
Improved work environment
Increased production and efficiency through automation
Improved dust-free environment through containment
Minimal risk of contamination
Reduces product losses
Increased process safety
Reduced operator fatigue
Easy to clean
Design for minimal operational downtime
Technical specifications
Emptying storage containers (IBC, big bags etc.)
Hover dryer emptying
Mixer loading
IBC loading
Transport powder through a conical mill for in-line grinding
Transfer to a tablet press compression machine
Transfer to a capsule filling machine
Some uses for the Uni-Vac: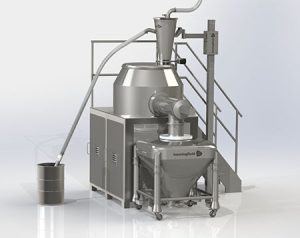 Feeding of intensive mixes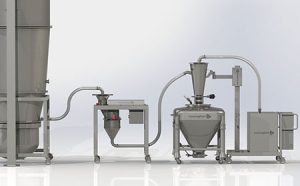 Emptying the suspended dryer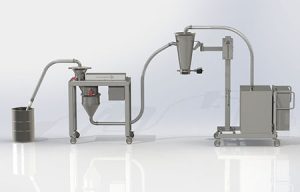 From barrel to grinder to receiver container in one step.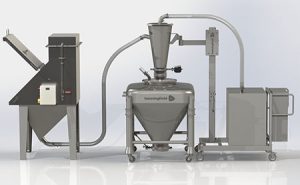 Emptying the Bag Emptying Station